Tonight's Boys JV basketball game vs Lapwai will only be a half game. The start time will stay the same at 6pm. The Varsity start time will now be 7pm. Thank you
The CV Softball team is hosting a Movie Fundraiser at the Blue Fox Theatre in Grangeville. Bring your friends and family and come support our team by helping us raise money for softball equipment and supplies. On February 9th at 6pm we will be showing A League or Their Own. $6.00 will get you a movie ticket and $9.00 will get you a movie ticket, small drink and a small popcorn. Additional snacks and sizes will be available at the concession counter. For more information please contact Mr. Martinez or any softball player. We look forward to your support!
For fans traveling to the HS GBB game tomorrow night at Genesee, Genesee will be serving food to raise money for their safe and sober night. Here is what they will have. The Genesee senior parents will be BBQing burgers tomorrow night and have a meal deal for $6 Burger, chips and water. All proceeds go to Sober graduation. Also, just a reminder, Genesee is still in phase II, so masks will be required for all fans, non playing personnel and players and coaches that are on the bench. Safe travels to everyone and Go Rams!!!
Genesee School District is going to Phase II. This will require that all fans wear masks at indoor events, including all non playing personnel, Coaches and players that are on the bench. If this gets changed, I will update the info.
The boys high school basketball games that were scheduled on 1/15 @ Genesee have been cancelled as well due to Covid. There are have been no makeup dates set yet. I will let you know as soon as I can. Thank you
The HS girls basketball game that was scheduled on Saturday 1/15 at 4:30 PM has been canceled due to Covid. There has been no makeup date scheduled yet. Also, the CV/Kamaih Wrestling team will not be going to the Orofino Maniac Tournament this Friday and Saturday due to Covid as well.
The HS Girls basketball game at home vs Lapwai on Thursday has been canceled as well due to Covid. This game has not been rescheduled yet, but I will let you know.
The HS Boys Basketball games at Lapwai tonight have been canceled due to Covid on Lapwai's end. There has been no make-up date set yet.
For those of you that are going to watch the boys basketball games tomorrow at Lapwai, masks are required and provided. They will also have concessions. Safe travels to everyone! Go Rams!!!
Congratulations to the HS Wrestling Team for taking home the 2nd Place Trophy at the Mountain View HS JV Wrestling Tournament! They finished 3 points behind 1st Place Madison. Our Medal winners are listed below. 3rd Place - Estuardo Puderbaugh, Jake Fabbi, Anthony Fabbi and Anthony Carter 1st Place - Keyan Boller, Bass Myers and Porter Whipple
Clearwater Valley High School and the American Red Cross are hosting an upcoming blood drive. Please join our lifesaving mission and schedule an appointment today! Drive Details: Site: Clearwater Valley High School Address: 4643 Highway 13, Kooskia, ID, 83539 Room Name: Library Date: Wed Feb 9, 2022 Time: 09:00 AM - 03:00 PM Blood Program Leader Name: Angel Dominguez Blood Program Leader Phone Number: (208)400-0311 Click here to make an appointment The National Honor Society will be hosting a blood drive on February 9th at the Clearwater Valley High School library. The blood drive will begin at 9am and end at 3pm by appointment only. Appointments can be scheduled through the American Red Cross website link above, signing up at the high school office, or by contacting Angel Dominguez (
angelldominguez1@gmail.com
). There is an extreme blood shortage this month, please consider donating! Community and student involvement is greatly appreciated to ensure we reach our goal. Masks are required while donating, so please bring one :) 16 year olds will need a parent authorization form completed prior to donating. Any students donating will be released from school for their appointment time and will be sent to class once they are feeling well. This will be a school related absence so please don't let that stop you from donating. The need for blood is constant and only volunteer donors can fulfill that need for patients in our community. Nationwide, someone needs a unit of blood every 2 to 3 seconds and most of us will need blood in our lifetime. Thank you for supporting the American Red Cross blood program!!!!!

Kooskia schools have power and are open today but some buses may not run. Highway 12 is closed and there are some power outages so we want to provide a place where students can be warm and fed.

All schools are closed today, January 6th. Kooskia, and Grangeville schools are closed due to freezing rain and other hazardous conditions. Stay safe and we hope to see you tomorrow.
Attention to all Grangeville schools: school will start at 9 AM today, January 4th. Please note that some bus routes may be changed as the road department tries to keep up with the snow. All Kooskia schools will continue to function as normal. Thanks and stay safe.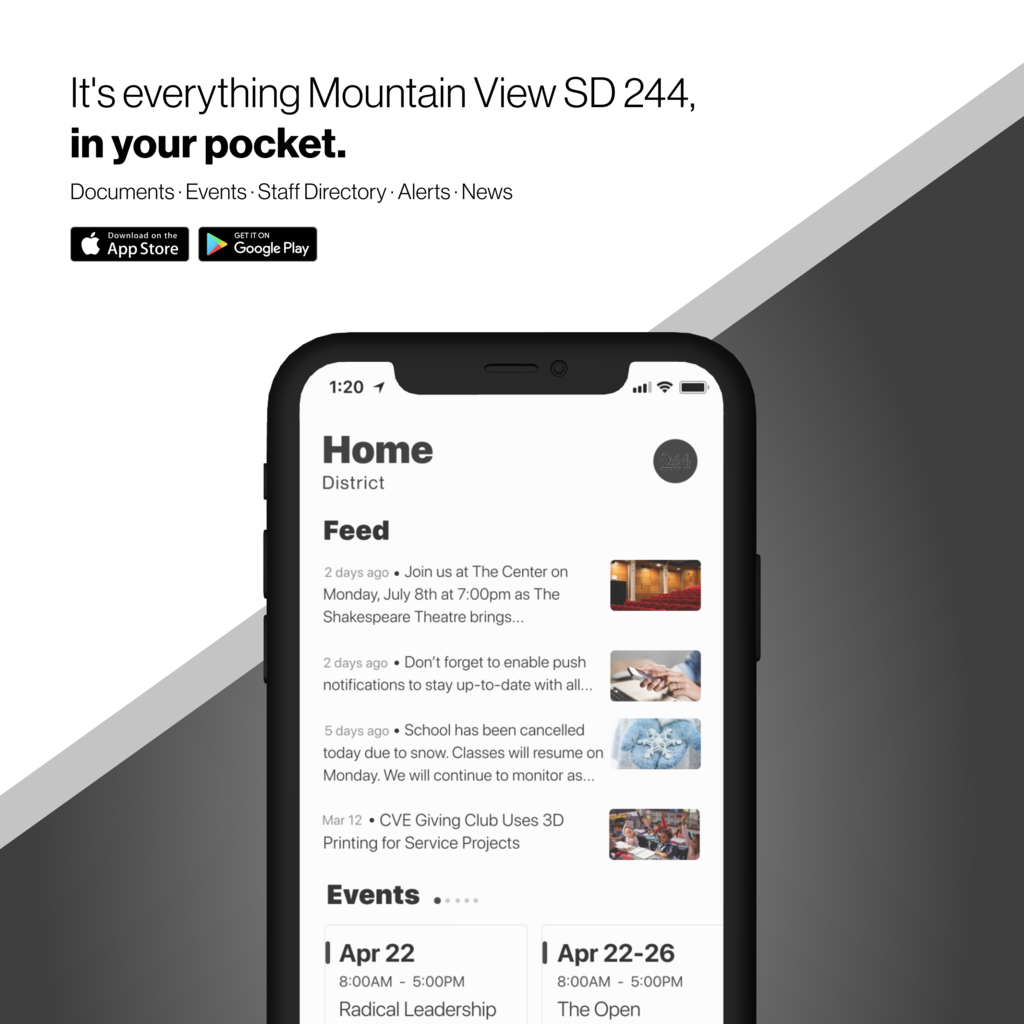 Good morning! Power has been restored and SCHOOL IS IN SESSION in all of our locations today! Please exercise the upmost caution when driving on the roads. Safety is our top priority, and although we are excited to see you this morning, we want to make sure everyone arrives safe and sound.
Mountain View School District 244 will be closed today, December 14th, due to power outage and snow. Please stay safe and we hope to see you tomorrow.
Join us for our Winter Concert on Wednesday December 15 at 7:00 pm in the CVHS gym. Band and Choirs grades 6-12 will be sharing a variety of music.

Upriver Rampage on December 10th!!!