Today's softball game vs Prairie has been moved to CV. The game will start at 3pm.
Today's softball game at Prairie has been moved up a half hour to start at 4pm, instead of 4:30pm. Depending on weather, there is a possibility of the game being moved down to CV today. I will keep you posted with all of this.
With the Tennis match being added on for Monday 5/9 at home vs Grangeville, Orofino & Culdesac, tonight's Senior Night will be just for baseball. Senior Night will start at 4:30 pm, with the game vs Nezperce starting at 5pm. Tennis Senior Night will start at 3:30 pm on Monday, with the matches starting at 4pm.
The HS Tennis All League Match that was scheduled at 9 am this Saturday 5/7 in CDA, has been moved to Lewiston instead. The match start time will still be at 9 am, but will be at Lewiston HS now. Also, there has been a tennis match added for this Monday 5/9 at CV vs Orofino, Grangeville & Culdesac. This will start at 4pm.
Our baseball game at Troy on Saturday 5/7 has been moved to Juliaetta (where Kendrick plays their home games), due to Troy's field not being playable and no Lewiston fields being available that day. There has also been a JV game added to the end. Here is the lineup of the games: Varsity Game 1 - 11am Varsity Game 2 - 1pm JV Game - 3pm (the JV will only play 5 innings max) Hopefully rain does not become a factor! Good luck and Go Rams!!!
Softball vs Nezperce is still on for 4:30 pm today, but the game has been moved to Culdesac, due to Nezperce's field not being playable. When Nezperce is done playing us for our single game, Nezperce is going to play Prairie JV afterwards. Safe travels if you are going and Go Rams!!!
Baseball @ Prairie at 4:30 pm has been cancelled. The game is rescheduled for tomorrow at 3pm at CV. They are going to come down here because their field is not playable at all. Since this was a home game for Prairie, they will still be the home team tomorrow down here. Have a great day and Go Rams!
With the cancellation of the game tonight vs Nezperce due to weather, they decided to forfeit, which automatically gives us a win. This win is also a league win. Nezperce did not want to add this game to Thursday to be played as a doubleheader because they do not have enough pitching.  For those of you that check on the Mountain View School District website to get all your score updates for baseball and softball, will see that this game will be recorded as a 1-0 win for CV. When a team forfeits, the game gets recorded as a 1-0 win for the other team.
Good morning everyone! We have a busy week in the world of sports! We will be honoring our Seniors this week. On Thursday 5/5 is Senior Night for baseball vs Nezperce. I will also be honoring Tennis Seniors on this night as well. The game was scheduled for 4:30 pm, but has been moved to 5pm. We will start Senior Night festivities at 4:30 pm. On Friday 5/6 is Senior Night for Softball vs Troy. This is a doubleheader at 3/5pm. I will be honoring the Seniors before the start of the second game. I will be honoring the Track Seniors on this night as well. The Track Seniors will be introduced first and then the Softball Seniors. This should start right around 4:30 pm - 4:45 pm. League doubleheaders have an hour and a half time limit. At the HS Track Meet on May 3rd at Kamiah, Kamiah is going to be honoring all the Seniors on the teams that are attending. This will start at 3:45 pm. They are just going to read a short note that has been submitted by coaches and the track meet will start at 4 pm. Hopefully the weather cooperates and we can get all of the games that are scheduled this week played, but unfortunately it does not look that way. I will keep you posted on possible game/Senior Night changes as quickly as possible. I hope that everyone has a good week! Go Rams!!!
The baseball game scheduled @ Nezperce on Monday May 2nd at 4:30 pm, has now been moved to CV. They are going to come here on Monday May 2nd now at 4:30 pm because their field is not playable. The softball game @ Prairie that was cancelled a week ago or so has been rescheduled for Thursday May 5th at 4:30 pm. In case you were not able to make it to the JH Track Meet last night, here is the link for the results.
https://www.athletic.net/TrackAndField/meet/449092/results
Join us for our Spring Concert on Wednesday, May 4 at 6:00 pm in the High School Cafeteria. Choirs and Band grades 6-12 will be performing music from Large Group Festival as well as some Star Wars music in honor of the date. Come support CV music students.
ISAT Math testing tomorrow for grades 6-10.
Fundraiser Parking Lot Garage Sale at CV High School May 15th from 1-5pm. If you would like to purchase a parking spot to sale items contact Kamm Mangun.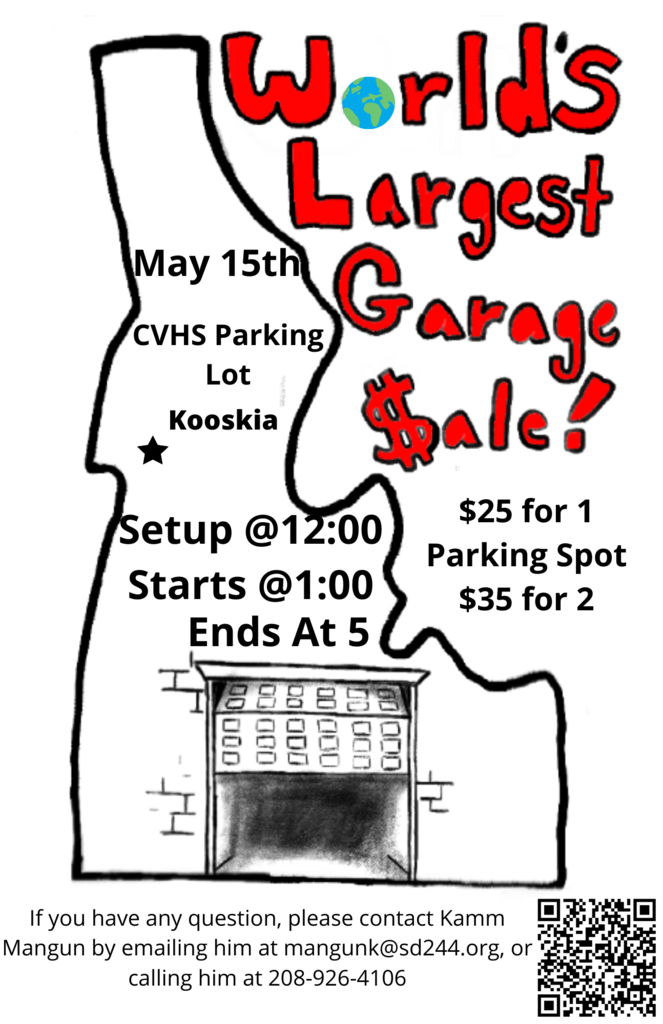 Class of 2022 Senior Awards Ceremony will be on Wednesday, May 18th at 2pm in the CVHS gym.
CV Greenhouse plant sale started today for community. Plant sale: Monday-Thursday 8:00am-4:00pm until plants are gone.
Tomorrow's JH Track Meet @ Kamiah at 4 pm has been moved to Thursday 4/28 @ Kamiah at 4 pm.
Our CVHS Spring Greenhouse Sale will start tomorrow Tuesday April 26th from 8am-12pm. Sale will continue everyday Monday-Thursday 8:00 am to 12:00 pm until the plants are gone. 4 inch pots and solo cups are $2.50 each and hanging baskets $20.00 Beefsteak Tomato Celosia Bok Choy Cabbage Gerbera Daisy Boston Pickle Cucumber Painted Daisy California Wonder Pepper Roco Blend Pansy Catskill Brussel Sprouts Sparky Marigold Cayenne pepper Swiss Giant Pansy Cherokee Purple Tomato Viola Cubbllee Sweet Pepper Zinnia Early Girl Tomato Fordhook Zucchini Hanging Baskets Golden Acre Cabbage Golden Jubilee Tomato Hales Best Jumbo Cantaloupe Honey Dew Melon HERBS Jalapeno Dill Lemon Cucumber Oregano Michihili Chinese Cabbage Parsley Minnesota Midget Cantaloupe Rosemary Mortgage Lifter Tomato Sage Poblano Peppers Sweet Basil Red Acre Cabbage Thyme Red Cherry tomato Roma Tomato Spaghetti Squash Straight 8 Cucumber Sweet Banana Pepper Sweet Chocolate Pepper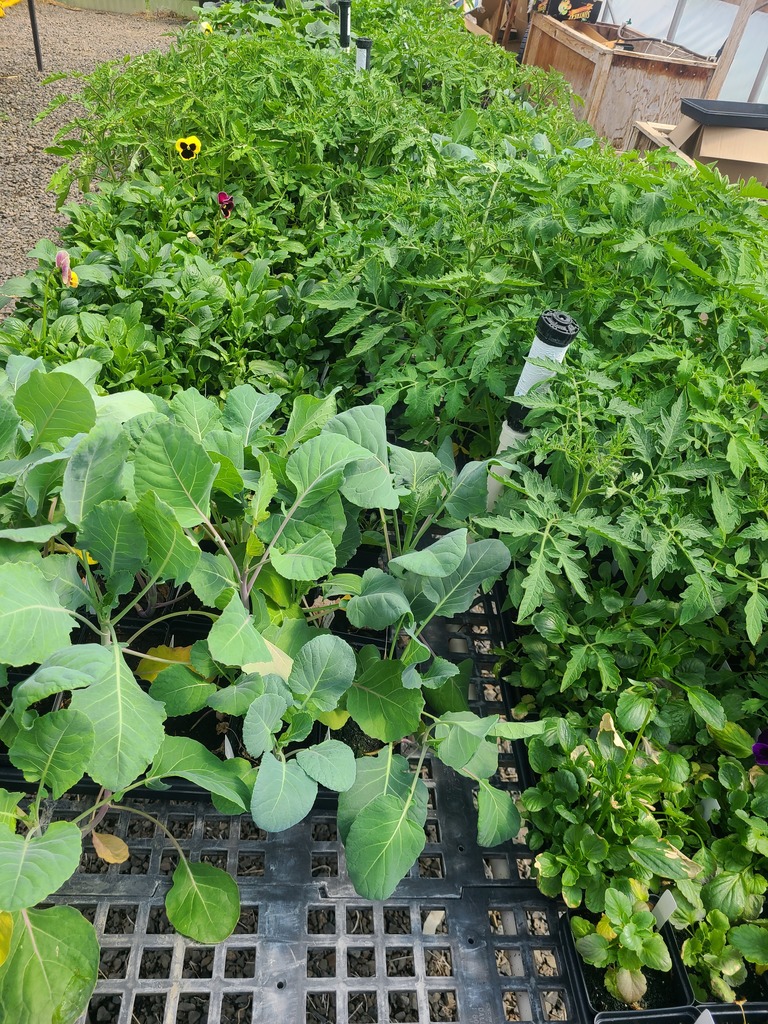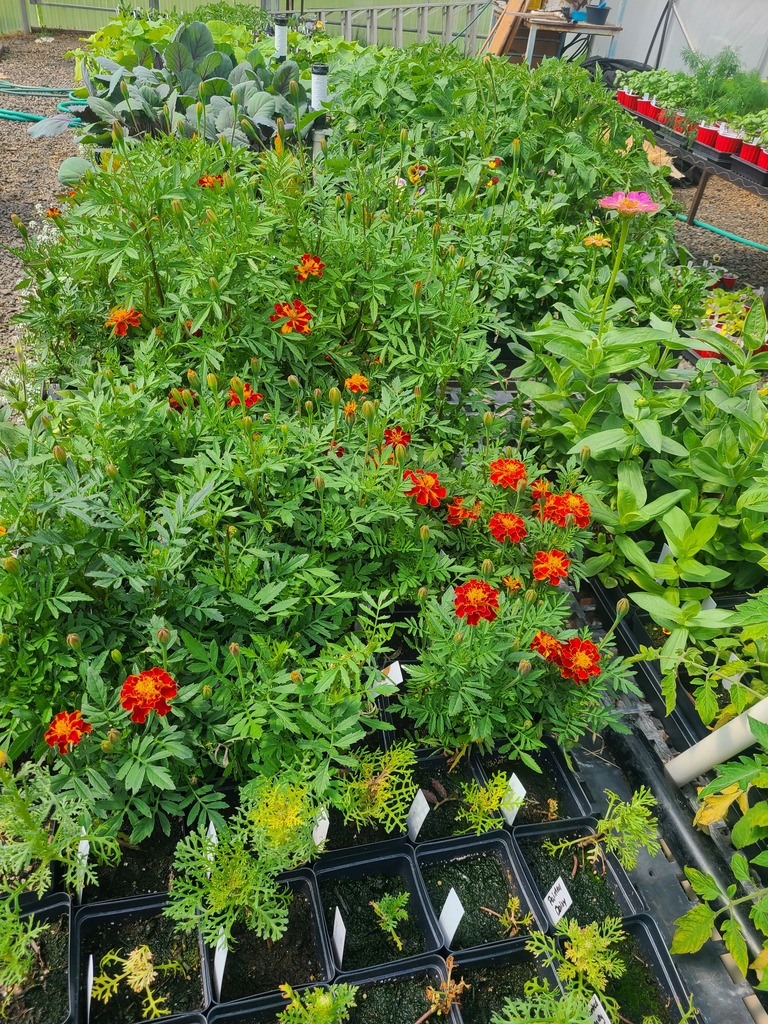 Just a reminder about the sporting events that were rescheduled for today from previous cancellations. HS Tennis @ Grangeville 4pm HS Track @ Prairie Track Meet 3:30pm HS Softball vs Potlatch (DH) 3:30/5:30pm Go Rams!!!!!!!!
The Mother/Daughter Tea will be on Monday May 2nd from 5:30 pm - 7:30 pm. They are looking for entertainment at the Mother/Daughter Tea. If interested, please email Angel Dominguez at
angelldominguez1@gmail.com
Thank you
Baseball at Nezperce today at 4:30 pm has been cancelled.